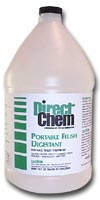 Turn Portable Toilets into Mini Water Treatment Plant. Attacks Odors and Waste at the Molecular Levels.

Stops disguising portable toilet waste accumulation and odor problems behind without the use of dangerous chemicals or fancy perfumes. Uses nature's own waste digesting process to control these nuisances. Millions of specially multi-cultured bacteria work continuously to reduce solid waste at the molecular level to speed up the deodorizing process. This synergistic action keeps portable toilets and holding tanks pleasant even during periods of heavy use. A light fragrance and a built-in dye maintain a clean, attractive appearance. Economical dilution rates, ranging from 4 to 8 ounces per tank, ensure results at maximum economy. Guaranteed count of 50 million colonies per milliliter.


DIRECTIONS:
Application
Digestant Quantity
Water Added
Marine & RV Holding Tanks
8 oz/40 gals. Waste
1 gal.
Portable Toilets
4 ozs./Tank
Enough to Cover Bottom of Tank
Pit Toilets
1 quart/500 gals. Waste
----------
• Dosages can be adjusted to meet your requirements.
• Acid-free formula is safe for use in holding tanks.
• Formaldehyde-free ingredients make PORTABLE FLUSH DIGESTANT 100% biodegradeable.
• Bacteria cultures double in reproduction every 30 minutes at 70°F.

Available In:
55 gallon drum
5 gallon pail