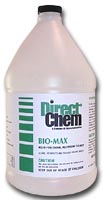 Bioenzamatic Triple Action Restroom Cleaner

BIO-MAX 321, a new triple-action restroom cleaner. Cleans, deodorizes and clears drains of organic waste. Remove hard water stains and general grime from porcelain, ceramic and chrome fixtures. Removes soils, a pleasant mint scent permeates the air, leaving rooms smelling clean and fresh. When rinsed down drains a special bacteria cultures digests soap residue, hair deposits, and other organic material to keep pipes free of clogs.
BIO-MAX 321 PROVIDES CONTINUOS CLEANING ACTION AND DIGESTION OF WASTE LONG AFTER THE APPLICATION IS COMPLETE. SOURCE IT OUT!
Guaranteed count of 80 million colonies per milliliters.

Available In:
55 gallon drum
5 gallon pail
1 gallon bottle, 4 per case