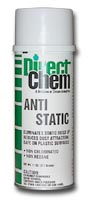 Non-chlorinated spray to eliminate static buildup.

A quick drying, static neutralizing treatment, which helps eliminate electrical charges in carpets, upholstery, drapes and on hard surfaces. Safe to use around electronic equipment (when disconnected), photo and printing equipment and plastic surfaces. Will not discolor or otherwise harm treated areas. Reduces shocks, sparks, and dust attraction. Leaves no greasy residue.


For Use By:
For Use On:
Office Buildings
Carpets - Rugs - Mats
Printing Operations
Upholstery - Drapes
Computer Environments
Electronic Equipment
Photo Processors
Photo and Printing Equipment
Maintenance Crews
Plastic Seat Covers - Chair Mats
Computer Work Stations
Window Blinds - Computer Printers
Plastic Partitions and Light Fixtures
FEATURES:
• CLEAR, INVISIBLE COATING/SAFE ON ALL PLASTICS.
• REDUCES SHOCK AND SPARKS.
• REDUCES DUST ATTRACTION.
• NO CHLORINATED SOLVENTS - NO HEXANE.

Available In:
16oz can, 12 per case